What is a Reseller Web Hosting Service?
Disclaimer: This article contains affiliate marketing links which may earn efriendlytools.com a commission should you use the links to make a purchase. The material provided below is free to you and based on our opinion. Our full disclaimer is available here.
A reseller web hosting service rents bandwidth and hard drive space from a hosting provider then sells it to consumers. The customers need not know that you aren't the actual hosting provider.
You've probably thought about being a hosting provider if you're a website designer. No website can run without being hosted, so there is a large customer pool.
The cost of establishing a hosting service might be too great, so you can consider starting a reseller web hosting service instead. This is perfect for small hosting businesses that are yet to find their footing.
The benefits of this system to the reseller are many. The low initial costs are attractive, and you can leave all the back-end work for your hosting provider to handle. You also get to develop your brand even before you begin hosting on your own.
Many websites provide hosting for resellers. We'll show you some of the best ones.
Who are the Best Reseller Web Hosting Services?
Reseller hosting is excellent for starting businesses because you have little work to do. You are renting out hosting without owning any of the hardware. The tricky part might be finding the right hosting provider.
The best ones have plans that are tailored to cater to resellers. That means that you'll get the lowest prices to make a profit. They'll also contain an easy-to-use control panel to customize your plan easily.
However, you have to decide which provider to go with, as they all have varying packages with their different perks. You have to pick the plan that is best for you.
We'll run the list down and ultimately let you choose on your own, here are our top picks.
KnownHost is a provider that has been in the business for about fifteen years. This company has the expertise that comes with experience.
Their reseller packages come with support for multiple domains. This means that you can sell hosting to many clients easily.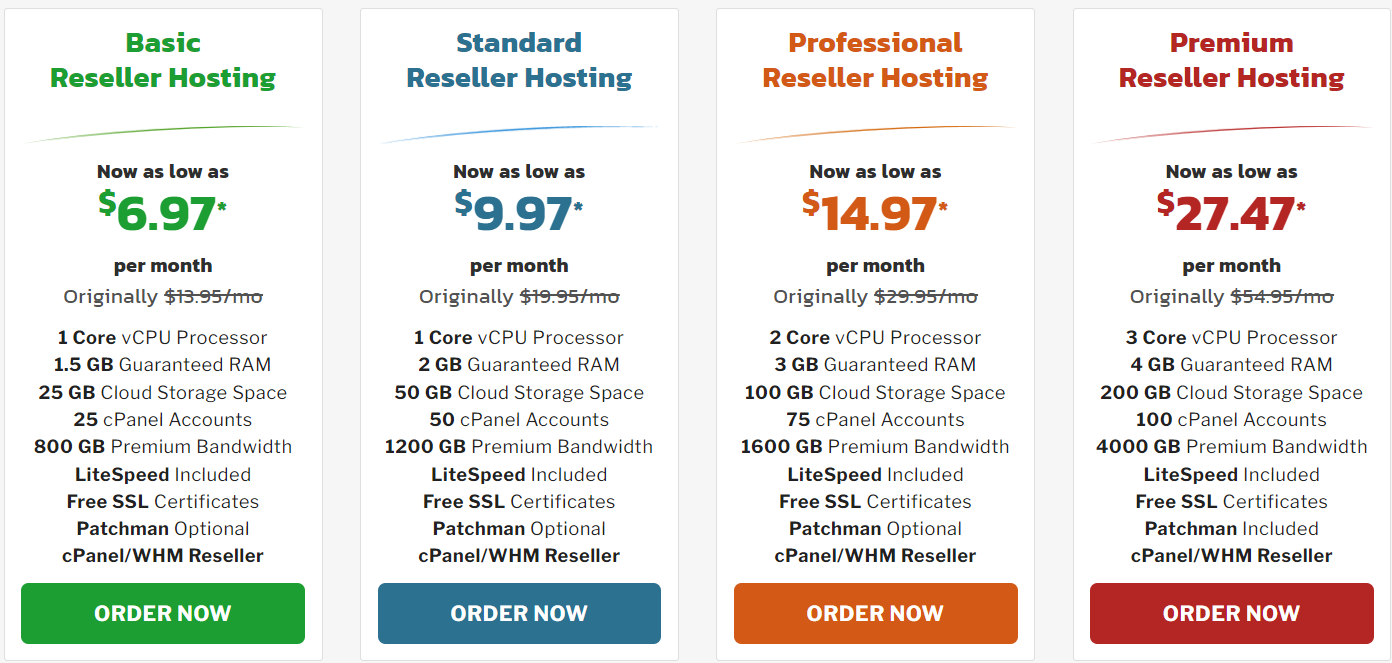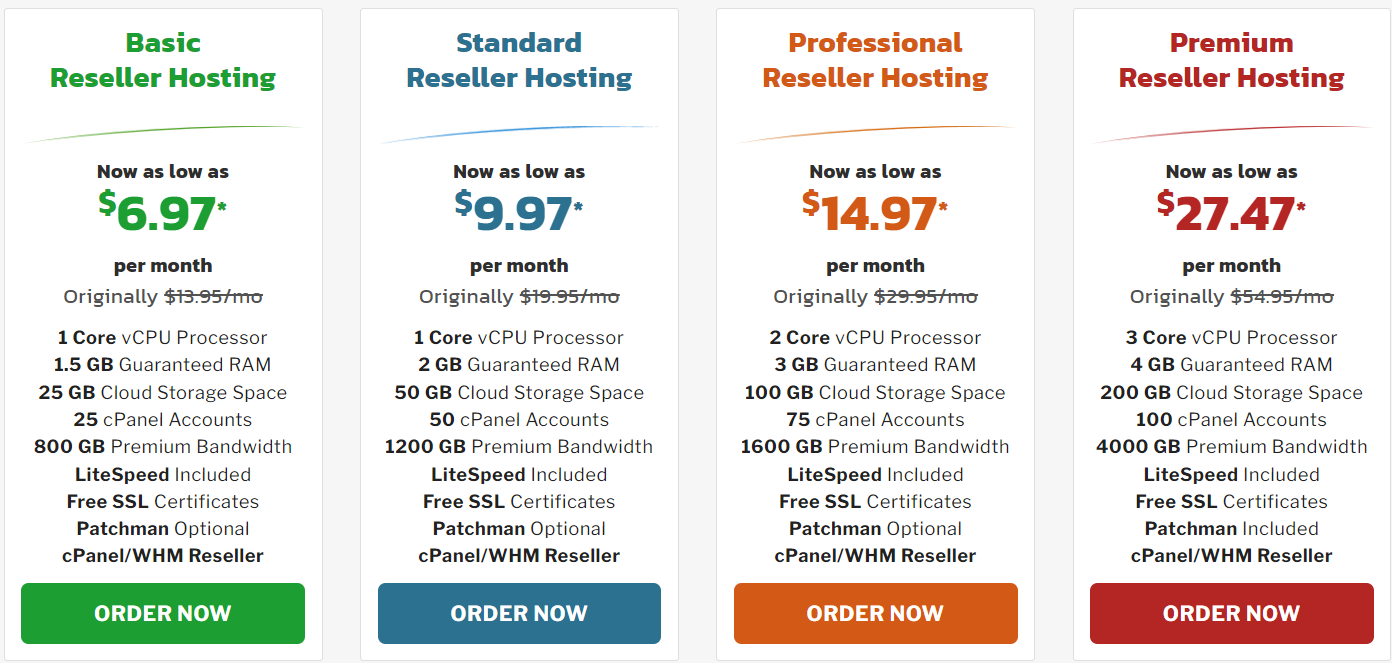 They pride themselves on their speed and have a lot of plans in place to ensure that hosting goes on seamlessly, even during a hardware malfunction. Their plans are optimized for resellers as they also come with cPanel, their in-house control panel.
They have personnel on hand to take care of hosting issues as they occur. But if you still need to call for support, their helplines are open 24/7.
KnownHost offers good plans for resellers, which you should consider.
This provider is a popular one as it has three packages that cater to different types of reseller businesses. Siteground offers reseller packages that offer customized domain names for various sites under the same plan.
Their plans, just like those of KnownHost, also have a control panel for easy customization.
Their GrowBig plan might not be the best for reseller businesses, as their branding would be visible to your customers. It is still the cheapest option available, though.
You may be better off with the costlier plans, GoGeek or Cloud, as these allow for customization without their brand getting through.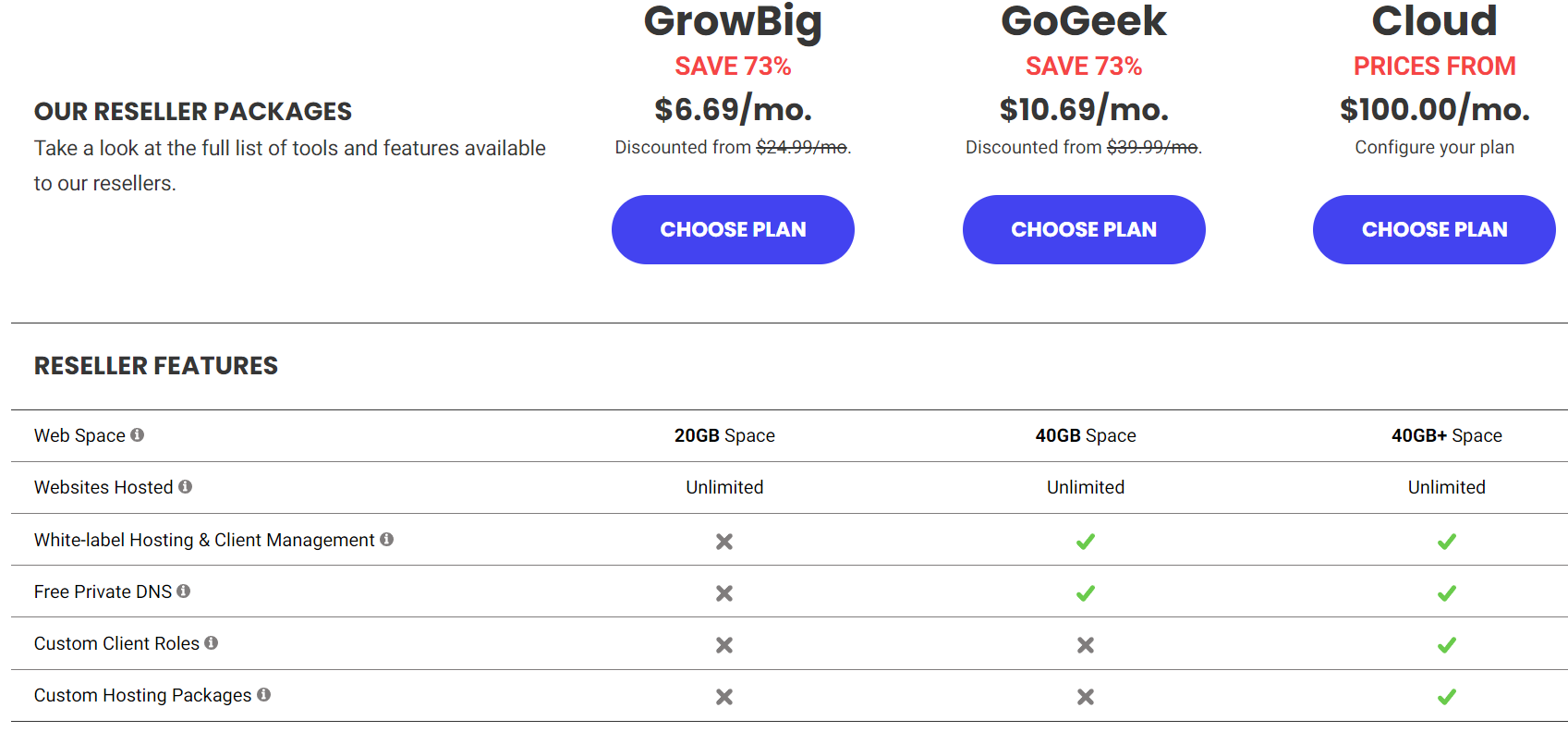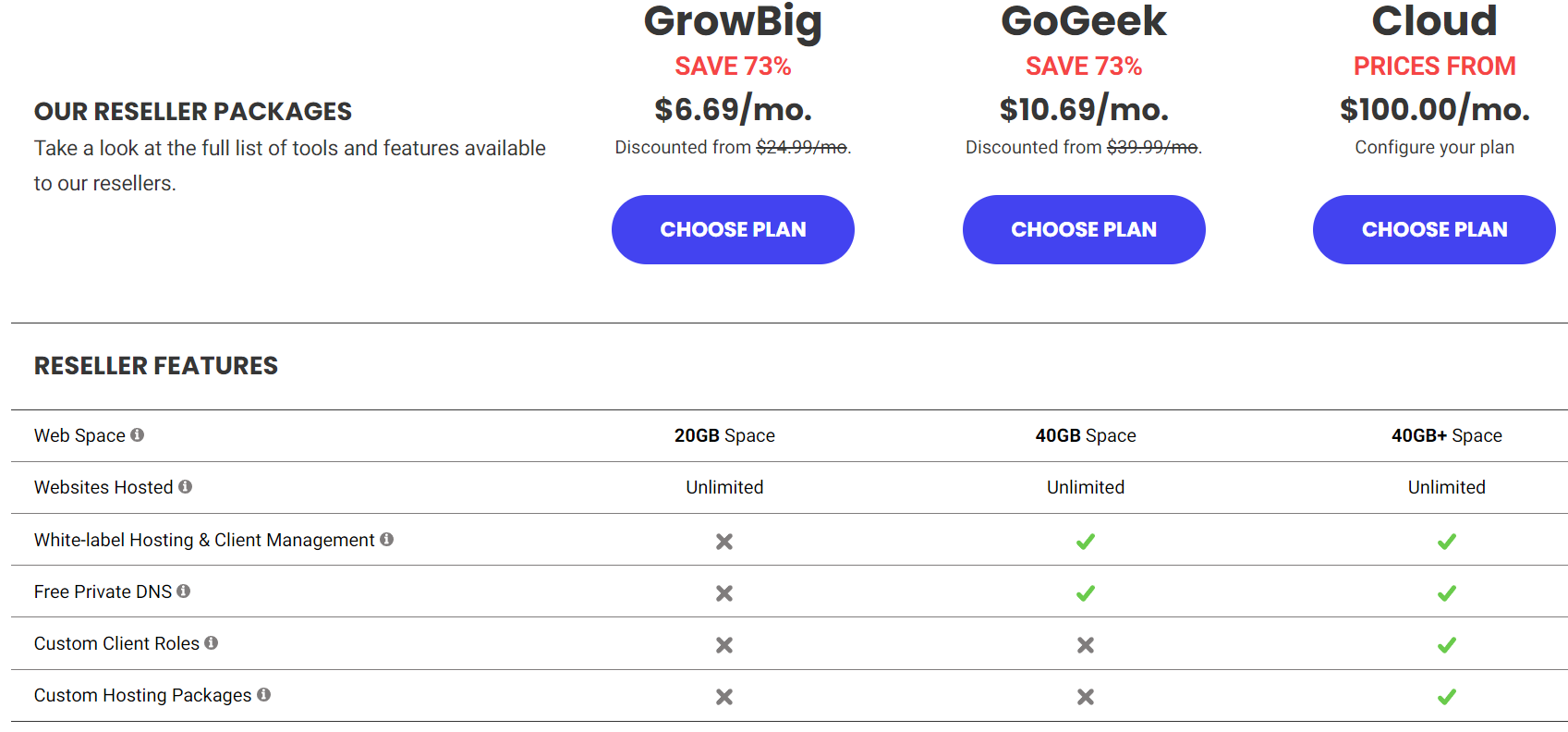 They also have support on standby, and their speed is excellent. You should check them out.
Namecheap is another popular one, but its name doesn't tell a complete tale. They aren't the cheapest on this list, but all their plans come with many features.
Even the cheapest reseller plan on Namecheap offers many premium capabilities. The only differences between the plans are their disk spaces, file limits, and cPanel accounts.
Their cheapest plan, the Nebula, offers 30 GB, a 600,000 file limit, and 25 cPanel accounts. In contrast, their Universe Pro plan provides 150GB of space, a 1.2 million file limit, and 150 cPanel accounts.
You could begin with the Nebula and gradually upgrade to the Universe pro when your business expands.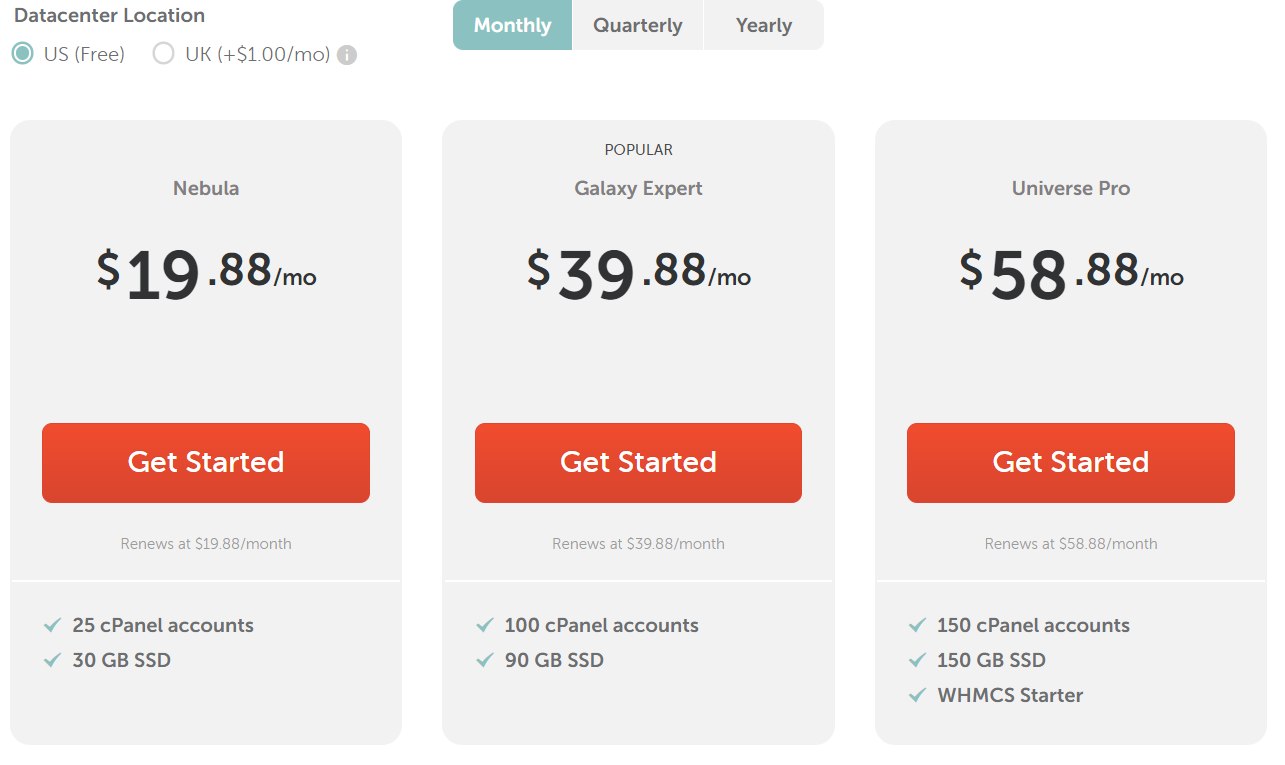 Their speeds are excellent, and so is their support. Unlike Siteground, even their cheapest plan won't have their branding.
Interserver is a little more versatile. Unlike all the others, it has five plans to cater to a broader range of resellers. You could always upgrade from the cheapest one with only 80GB of disk space to the costliest with 280GB of space.
All their accounts support many premium features, including a control panel and a lack of site branding. Pricing rangers between $19.95 – $69.95 per month with 5 overall plans to choose from.
Interserver offers daily backups of your data to prevent losses, and their speed is nothing to sniff at. They aren't the cheapest of the bunch, but they offer a lot for the price.
TurnKey Internet is another hosting provider that offers the standard, but with a few additions.
They have three plans like others, but they offer unrestricted bandwidth. They also all offer unlimited domains, and that is a huge bonus. The cPanel accounts in the cheapest plan are limited to fifty, though.
They include some essential tools in their plans, and support is 24/7. However, one notable feature is their green initiative.


TurnKey Internet is determined to provide hosting in a low-impact, low-energy way. If you love the environment, then you should note this too.
Hostgator is another popular one. This provider is a leading name in the field, and with a look at their offers, you can understand why.
They have three plans, Aluminum, Copper, and Silver plans. Like all the others, these plans depend on your needs. But one beautiful thing is that each package offers many premium features.


Hostgator supports unlimited websites, control panels are included, and they are packed with many necessary reseller tools.
The only differences are the disk spaces and bandwidths, as they go from 60GB to 140GB and 600GB to 1400GB, respectively. It would help if you took note of that during your consideration.
Webhosting UK starts different as they begin by letting you choose between Linux and Windows reselling.
If you're confused about which to choose, we'll help you out.
Some applications run only on Windows servers, but Linux servers are more widespread. Most people stick with Linux servers, but it is good that WHUK gives a choice.
They offer a control panel, multiple websites, 99.99% uptime, and 24/7 support.
Conclusion
Once you have chosen your hosting provider, your reseller web hosting business has officially begun. Next you have to work on developing a strategy to sell your hosting, and you can sit back and watch the money come in. Reseller hosting is good business design for those starting out in the web hosting industry.
Also related: Best Web Hosting Services