What is a Press Release?
A press release is an official statement delivered to the members of the new media for the purpose of providing information or making an announcement directed for public consumption. For businesses, they are newsworthy to inform the public that new or upgraded products and services are being launched. They are also used to inform the public about changes in direction within a company such as a new CEO coming onboard.
Disclaimer: This article contains affiliate marketing links which may earn efriendlytools.com a commission should you use the links to make a purchase. The material provided below is free to you and based on our opinion. Our full disclaimer is available here.
Press Release Access and Costs
Traditional Press releases for small businesses have been hard to come by. The access is very limited since major outlets are usually tied up with large corporations and government entities. If an outlet is willing to work with you, it comes at a steep price often costing thousands of dollars just for one Release. What if you are a brand new business just kicking off the ground? What if you are launching a new product or Service? Do you really have the effort, time and money to shell out? What if there was a better way?
eReleases for Small Business
eReleases clearly states their purposes as a PR distribution and writing service for small businesses. Their focus is to work with you directly and give you access to the thousands of journalists that can work on your PR distribution. Your press release will be distributed to major outlets such as Associated Press (AP), Google News, Yahoo and more. All this for a value that is unbeatable with regular pricing starting as low as $ 399. Read to the end to find out about special discounts.
Benefits of eReleases
eReleases uses the traditional newswire service from PR Newswire (the same service that BIG companies use at several times the price), the largest, oldest, and most respected press release newswire. This means your release will be sent directly to journalists who are interested in your topic.
Their staff of editors is happy to critique your press release and give you ideas for headlines, hooks and angles to be more appealing to the media. And they even offer a writing service if you don't want to write your release. This removes the stress of having to come up with your own writing or hiring a full-time writer so you can focus on your business operations.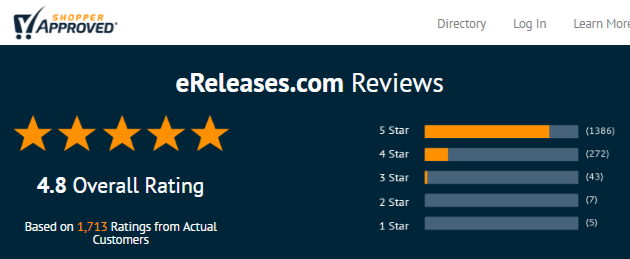 4.8 stars from nearly 1700 real customers. How do they get such a high rating?
eReleases.com is the highest rated press release service in the USA, bar none.
In fact, here are a few more benefits that sets them apart:
They answer the phone with real live people.
No salesmen.
Only editors.
They never try to sell you something you don't need.
They give you honest feedback about how to write your press release.
They give you ideas for hooks and angles to attract media attention.
They bend over backwards to provide "5-star" service.
Testimonials
Here are some customer reviews from eReleases' website:
SKEPTICAL AT FIRST, BUT GREAT MEDIA PICKUPS
Everyone thinks Businesswire and PR Newswire are the gold standard, so I was skeptical of using you at first, but you guys have gotten some great media pickups for me and I'm so pleased! – Jennifer Price, HelloMD